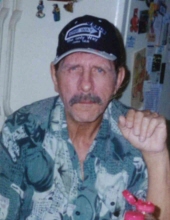 Obituary for Carl Jr. Roberts
Carl Jr. Roberts, 59, of Panama City, Florida, passed away Friday, June 8, 2018.

Left to cherish his memory are his parents, Carl and Mary Roberts; his son, C.W. Roberts (Ashley Sewell); grandson, Carter Roberts; brother, Wayne Roberts; aunts, Ann Russ, Eva Sprinks and Shirley Duke; uncles, Earl Roberts and Buddy Sprinks; numerous nieces, nephews and cousins; and special friends, Greg McCleskey, Timmy Matthews and Jayne Matthews.

He was preceded in death by his brother, Mike Roberts.

Carl was a big man; He was big in spirit and heart. If you were lucky to be his friend, you knew he would always be there for you. He had a large circle of friends which he considered family. We will never see anyone like Carl again and so many people are hurting. He would not want us to be sad for too long. He knew we loved him. We can only hope he is with Steve Mills now. He missed his friend every day. They were best friends and brothers. Now they are together again. Hope they behave themselves!

For those he left behind: "Feel no guilt in laughter, he'd know how much you care. Feel no sorrow in a smile that he is not here to share. You cannot grieve forever, he would not want you to, he'd hope that you could carry on the way you always do. So, talk about the good times and the way you showed you cared, the days you spent together, and all the happiness you shared. Let the memories surround you, a word someone may say will suddenly recapture a time, an hour, a day, that brings him back as clearly as though he were still here, and fills you with the feeling that he is always near. For if you keep those moments, you will never be apart. And he will live forever locked safely within your heart." – Author Unknown

Family and friends of Carl's would like to thank Greg McCleskey for his friendship and devotion. He made it possible for Carl to live at home and took great care of him. We all love you Greg and appreciate everything you did for Jr.

Thank you Covenant Hospice for all you did for Carl. We appreciate you all very much.

A special thank you to Bruce Hebert. You took time to visit with Carl and play music for him. He loved music of all kinds and he appreciated you playing for him. Bless you!

There will be a celebration of Carl's life on Thursday, June 14, 2018, 11:00 A.M., at Heritage Funeral Home, 247 N Tyndall Pkwy, Panama City, FL 32404, with Pastor Eddie Pitts officiating. The family will receive friends beginning 10:00 A.M. prior to the service.
Previous Events
Visitation
Heritage Funeral Home and Cremation Services
247 N. Tyndall Parkway
Panama City, FL 32404
Service
Heritage Funeral Home and Cremation Services
247 N. Tyndall Parkway
Panama City, FL 32404